Spring is finally settling in. I recently spent a great evening at Gallow Green, the rooftop bar that is part of The Heath Restaurant (great food) and The McKittrick Hotel, the venue of Sleep No More, an amazing interactive theater experience.  They need to ALL be experienced.  It reminded me of a post I did back in 2012 of the Mondrian Hotel's rooftop bar here and last year on the rooftop bar and saltwater pool at the King & Grove Hotel in Williamsburg here.  Andrew Zimmer and Mikelle Street at Thrillist recently came out with the ultimate guide to New York City's rooftop bars, worth repeating here…
80 NYC ROOFTOP BARS: THE ULTIMATE GUIDE
There are so many rooftop bars in NYC, that there's really no way any one person could know about all of them. And that's why we had two people write this. Here's your neighborhood-by-neighborhood guide to every rooftop bar in NYC (80 total!) worth knowing about.
Chinatown
1. La Piscine at Hôtel Americano

2. Rare View Chelsea

3. Larry Flynt's Hustler Gentlemen's Club Cigar Lounge

4. Z Bar Restaurant & Sky-Lounge

5. The Delancey

6. Tavern 29

7. Haven Rooftop NYC

8. Refinery Hotel

9. Sky Room

10. Sky Terrace at Hudson Hotel

11. The Heights Bar & Grill

12. RARE View

13. Penthouse808

14. Sonny's Soda Shoppe

15. JIMMY at The James

16. Level R at Empire Hotel Rooftop

17. STK Downtown & Rooftop

18. Gallow Green

19. 230 Fifth

20. La Birreria

21. Hudson Terrace

22. Press Lounge

23. Terminal 5

24. The Crow's Nest

25. Z New York

26. The DL

27. Hotel Chantelle

28. Le Bain

29. Plunge Park Ave

30. CATCH Roof

31. Brass Monkey

32. The Roof

33. Top of the Strand

34. Upstairs at the Kimberly

35. Monarch Rooftop Lounge

36. Pod 39 Rooftop Bar

37. Salon de Ning

38. The Skylark

39. Gansevoort Park Rooftop

40. The NoMad

41. The Rock Shop

42. Bar d'Eau

43. The Met Rooftop Bar

44. Berry Park

45. Bia Bar & Grill

46. Canopy Bar & The Panther Room

47. Juliette

48. Night of Joy

49. The Ides at Wythe Hotel

50. Upper Elm at King & Grove Williamsburg

51. Zona Rosa

52. The Rooftop at The Jane

53. L'isola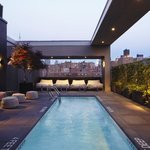 1. LA PISCINE AT HÔTEL AMERICANO
 Three tequila menus. Yes there's also a grill that switches from Mediterannean to alpine themed with the seasons settled on this rooftop bar at the Hotel Americano, but what you should keep your attention on is the three tequila menus: Blanco, Anejo and Resposado. Of course there is an actual pool, though small, but those tequilas… that's the key.